Top 5 Running Recovery Must Haves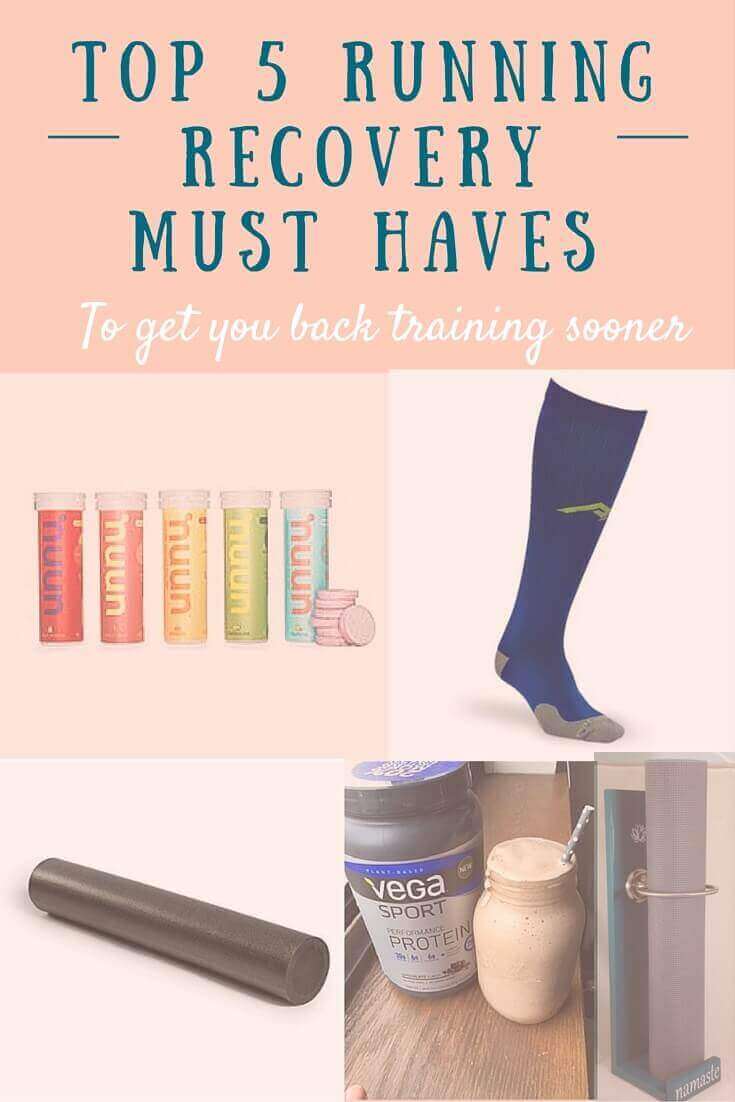 I used to be one of those people that could just run without getting injured, or even giving it a second thought. I didn't even hear of foam rollers, protein bars, or ice baths until my freshmen year of college. I kid you not. I had never even heard of Clif bars. I was living under a rock apparently. Well, now a little over 4 years later, I think I have finally gotten my running recovery down. If you are a crazy superhuman that never gets sore, tight, injured, or lethargic, this post probably isn't for you 😉
Today, I'm sharing some of the products that are KEY in my running recovery- especially after long runs.
#1 on the list= Pro Compression Socks
If you know me, then you won't be too surprised by this. I have been known to wear my pro compression socks to class under my scrubs after a hard workout in the morning, or to the library for a study session after a long run on a Saturday. If you are a runner and haven't tried out using compression sleeves after a long run, you are seriously missing out. I don't think that my calves and shins have ever felt so good since I started using these socks. Basically – the short & dirty on these socks is that they combat muscle soreness and fatigue by applying graduated compression to increase blood flow. Basically – compression socks help to increase the body's natural recovery process so you feel ready to tackle your next workout sooner. Pro Compression are the best in the business (IMO) and are made right here in the US!
#2 Dense Foam Roller
None of those soft/ styrofoam-y foam rollers for this girl. I need to real deal, dense foam rollers to work out the tightness in my muscles! The picture above is the one that I use and I love it! There are so many benefits of foam rolling that I think I will do an entire post on it. In short- foam rolling helps to reduce muscle tightness, soreness, and risk of injury. Foam rolling can be a tad bit painful when your muscles are super tight, but as I like to say- it hurts so good!
#3 Vega Sport Performance Protein
Now, if you've read my blog before, it shouldn't be a secret that I love Vega products. I especially love the Vega Sport Recovery protein. Not only is it delicious, but I have found it to help with muscle soreness and turn around between hard workouts. This formulation is made with tart cherry and turmeric to help with inflammation. This isn't a sponsored post either, I just really love this brand and their products. The chocolate and the mocha are my two favorite flavors. I love mixing them with frozen banana, unsweetened almond/ cashew milk, and some ice. It tastes like dessert & is super healthy!
#4 Nuun Hydration
I absolutely love this company and what they stand for. I love that they provide a healthy alternative to traditional sugar laden sports drinks. I actually did a Review of Nuun a little while back where I explained how I use it. I love using it while training, the night before a long run, and after training. In short- its great to drink around the time of your runs!
#5 Yoga Mat/ Yoga Practice
Yoga has been so amazing for my running. I've been practicing yoga for about 9 months and have finally started to get more flexible! I roll out my mat after almost every run and do a short 10-15 minute flow to stretch out. I love stretching when my muscles are already warm because it makes stretching easier. I also find free yoga classes whenever I can (shoutout to lululemon for free weekly classes!) because this girl is on a budget right now. I highly advise buying a cheap yoga mat to stretch on after runs. I also do core work/ planks/ strength training on my mat as well. I like to keep my mat rolled out on the floor in my apartment to keep me motivated to continue stretching! Yoga can help with muscle soreness, tightness, and injury prevention! Also- how cute is this yoga mat holder?!? I think I know what my next DIY project will be 🙂
What do you do to shorten recovery time between workouts?
What are your favorite exercises other than running to keep in shape?
Do you think that protein powders/ electrolyte drinks really help?