My Story
I have had my blog for about 9 months and realized that my "About me" section doesn't really tell you too much about me. It's time that I change that. I re-vamped my about me to give you more insight about my life!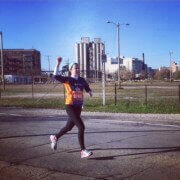 Hi! I'm Kerri- a self-proclaimed health nut, runner, yogi, vegan, celiac, and a first year dental student. This blog came about when I lots of my family and friends asked for my recipes and were curious about the foods I eat. I decided to start this blog to share my journey toward optimal health and happiness. I strive to live a life that brings me joy and purpose- aiming to encourage others to live healthily and push themselves to the limit.
A little more on me:
My journey to health:
I have been interested in health and fitness since I was 14 years old. Now a 22 year old dental student, I have learned a lot about nutrition and exercise over the years and love sharing my knowledge with others! I participated in a lot of sports growing up and found my true love for running when I was 17. I ran track and cross country my first year of college, and was sidelined by injury during my sophomore year. My junior year I decided to take a HUGE risk and transfer to a school where I knew no one. This is when I really started to discover what true health is. What did I discover??? True health is NOT low calorie, compulsive/excessive exercising, deprivation, or eating less. Health is fueling your body right, eating plant-based foods, participating in a variety of exercises and living in the moment.
What am I up to now???
I'm a busy dental student, but still make time for fun and to do the things i love. You can find me running my the lake, in yoga class, or whipping up healthy gluten-free vegan food in my kitchen. I have been a vegan for over a year now and I love this lifestyle! I've never been healthier, happier, or had this much energy in my entire life.
Random facts about me:
I NEVER pay full price for anything. I was an extreme couponer for a while and one time made $60 at Walmart and walked away with a cart full of product.
I have an adorable golden doodle puppy at home.
Seriously how cute is he??
I am one of 5 kids and love my siblings. They are total weirdos and I wouldn't have it any other way.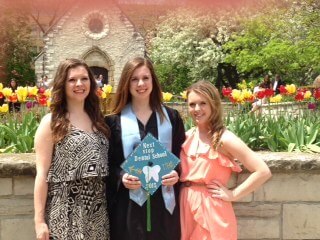 Me and my sisters 🙂
My parents are pretty cool too and support me in my healthy lifestyle.
If I could only choose one food to eat for the rest of my life it would be sweet potatoes. Hands down. No question about it.
I have my sights set on running the Chicago Marathon next fall. My goal is to qualify for Boston some day 🙂 OH HAYYY – UPDATE- Not running Chicago this fall, but DID run Green Bay this past Spring- qualified for Boston, got in!!! See you in BOSTON 2017! WOOP!
I have a slight obsession with grocery stores. I love good deals on produce and find grocery shopping therapeutic.
I love flavored coffee and sunny mornings- oh and smoothies!!!
I hope to move somewhere warm some day. I love being active outside or even just sitting outside enjoying breakfast!
Going vegan has changed my life. I'm healthier, happier, and more positive than I have ever been.
I'll leave you with one of my favorite quotes as of late.
That's all for now- I hope you will stop by my blog again and leave me comments! I love connecting with readers and hearing your opinions/thoughts/likes!