Strawberry Mocha Protein Chia Pudding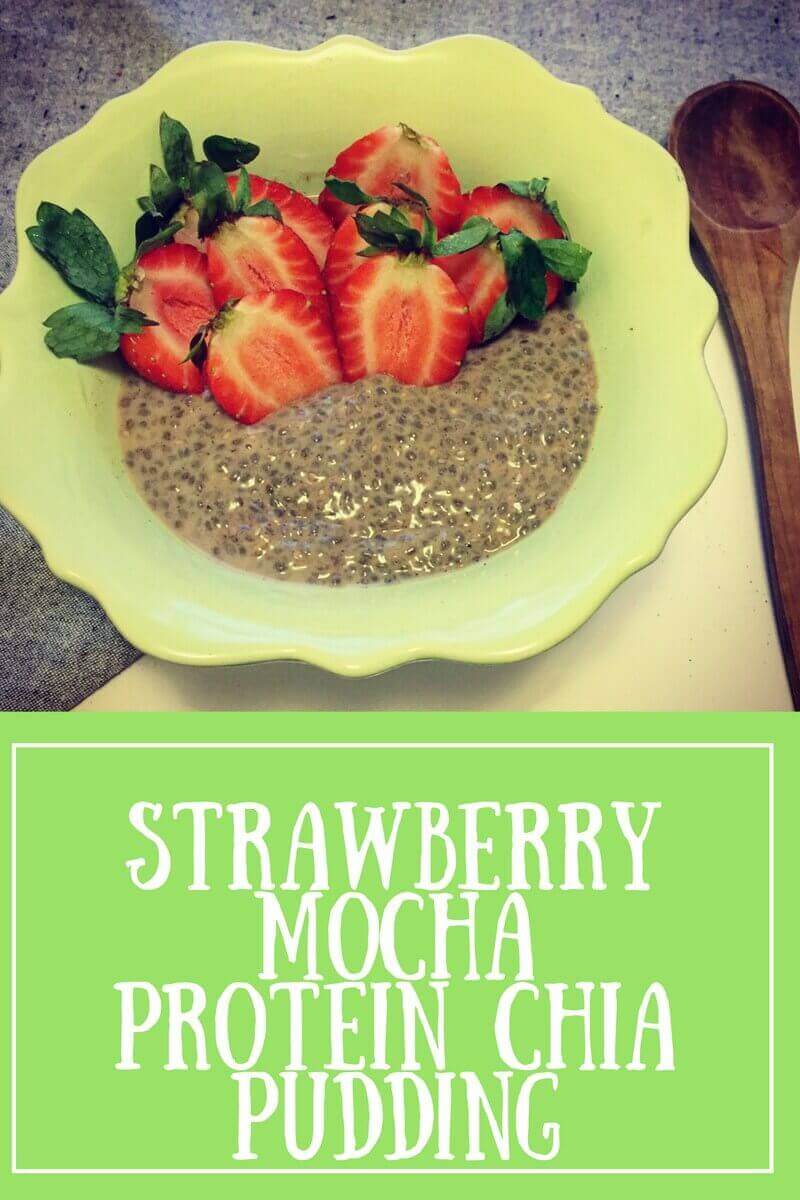 It's time to jump on the Chia Pudding train if you haven't already! Chia pudding is such a delicious, filling, and healthy meal, snack, or dessert. I especially love chia pudding for breakfast because you can make it the night before and eat it the next morning! I am all about having breakfast ready when I wake up so that I can maximize my morning! One may think that prepping breakfast the night before would make me early for school, but usually I am still rushing there because I try to get too much done in the morning. BUT- having breakfast ready certainly helps!
Get your butt out the door on time by making this delicious Chia Pudding in a mason jar/to go container. You can enjoy it on your commute to work if you are especially low on time!
I love the health benefits of chia seeds- especially when it comes to fuel for runners. Chia seeds are loaded with antioxidants and full of omega 3 fatty acids which are essential for optimal brain function. They also provide sustained energy for running! I could talk all day about how great chia seeds are, but will have to save that for another post.
On to the recipe! (because that's why you are all really here right??)
Strawberry Mocha Protein Chia Pudding
From
Kerri's Fit Kitchen
at
https://www.kerriskitchen.org/strawberry-mocha-protein-chia-pudding/
https://www.kerriskitchen.org/
Thick Chia pudding keeps you full for hours! Sustained energy you can feel good about!
You'll Need…
1/4 cup chia seeds
1/3 scoop Vega Mocha Sport (or vanilla or chocolate protein of choice)
1 tsp vanilla extract
1 1/4 cup unsweetened vanilla almond milk
1.5 cups chopped strawberries (or more/less if you so desire)
Directions
Begin by adding 1/4 cup chia seeds, protein powder, and vanilla extract to a jar/bowl. Then add in 1 1/4 cup of almond milk and mix well. The mixture will not appear thick until the chia seeds have had time to soak up the liquid, so it will appear soupy still. That is ok. Add more/less liquid to your taste preferences, but i have found 1 1/4 cup of liquid to work well. You can now add some chopped strawberries and mix it together, or wait to add them until the morning. It looks prettier if you wait to add it to the top- especially if you want to get that instagram shot (I know we all do!).
Additional Notes
Feel free to play with the measurements until you find the ratios that suit your tastebuds!
Please let me know if you make this recipe! I LOVE to see your creations on instagram/twitter/facebook! Be sure to follow me on instagram (link in side bar), and tag me if you make any of my recipes!
Let me know if you prep your breakfast ahead of time and how you make sure you aren't late to work/school/etc.!
Nutrition Facts

Servings

1.0

Amount Per Serving
calories

401

% Daily Value *
Total Fat

21

g

32

%

Saturated Fat

0

g

0

%

Monounsaturated Fat

0

g

Polyunsaturated Fat

0

g

Trans Fat

0

g

Cholesterol

0

mg

0

%

Sodium

352

mg

15

%

Potassium

561

mg

16

%

Total Carbohydrate

36

g

12

%

Dietary Fiber

23

g

91

%

Sugars

11

g

Protein

21

g

42

%

Vitamin A

13

%

Vitamin C

223

%

Calcium

89

%

Iron

33
Here are the nutrition facts if anyone is interested! Lots of healthy fats, protein, and fiber! Plus, you get almost your entire day's worth of Calcium, all of your daily vitamin C, and 1/3 of your daily iron. What's even more impressive about that is that you get all of those amazing nutrients in one meal! The idea that eating a plant based diet leaves you deficient is just a bunch of nonsense. All you need is a little knowledge on the major vitamins and nutrients that comprise certain foods and you will succeed on this lifestyle!
let me know if you have any questions/comments about getting in all of the necessary nutrients on a vegan diet! It really is easier than it seems!