Banana Apple Quinoa Oat Muffins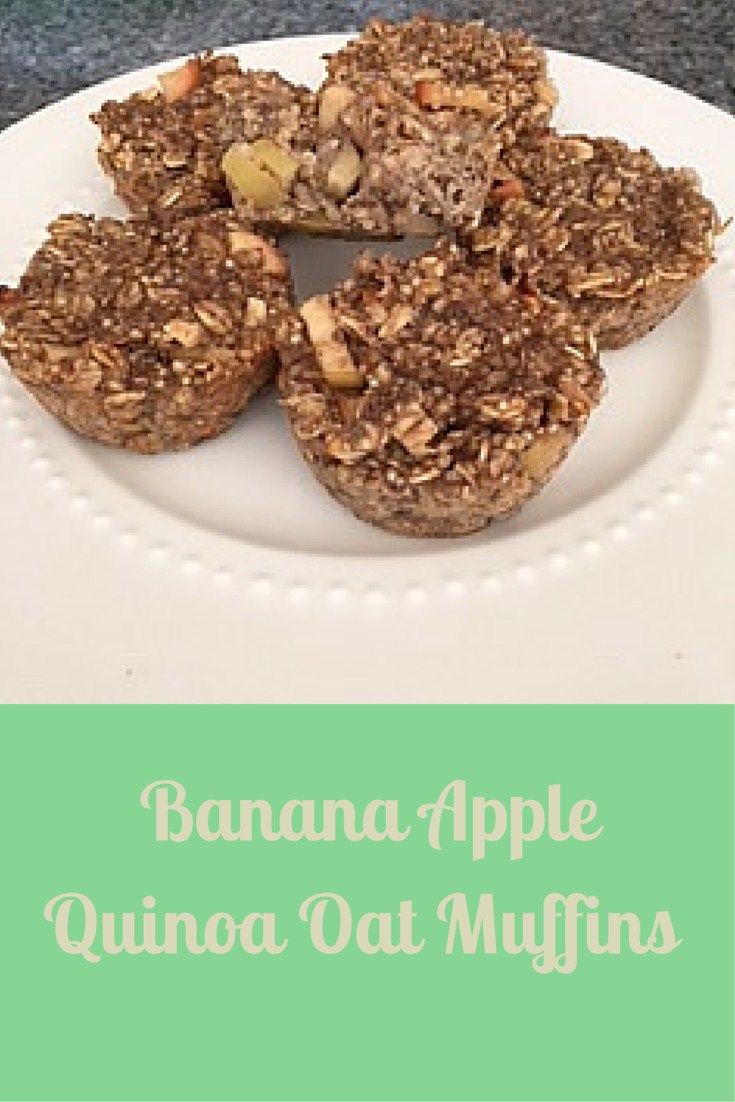 I believe that a good day always starts with a healthy and filling breakfast. Grabbing a protein bar on the way out the door just doesn't cut it for me. I like to have filling breakfast that gives me lasting energy for a few hours. These muffins are great for people that are crunched for time in the morning, but still want a healthy, filling breakfast. Pair two of these oat muffins with a couple of servings of fruit and you will be good to go!
These muffins would also be great for a pre/ post gym snack or dessert. They are dense without being heavy and aren't overly sweet. They are sweetened with bananas, applesauce, and just a hint of honey (use agave or maple syrup for strict vegans). I used honey in this recipe since I was making these muffins for my mom (#bestdaughteraward – shh don't tell my sisters). The combination of quinoa and oats makes these muffins chewy, while the bananas and apple sauce make them soft.
Now, I do have to say that these "muffins" are definitely more of an oat bake/ oat cup vs. a light, floury muffin. Actually, the more dense texture from the oats is what makes these so filling and healthier than typical muffins. Adding finely chopped apples takes these muffin cups to the next level.
Here's what you will need:
1 cup, mashed, Bananas,
2 tbsp chia seed
2 tbsp, Coconut Flour
0.75 cup(s), Apple Sauce Unsweetened
0.50 tbsp(s), Vanilla extract
0.50 tbsp cinnamon
0.50 cup dry quinoa
2 cups Gluten Free Rolled Oats (I used Bob's Red Mill)
1/4 cup Wild Flower Organic Honey
0.50 cup unsweetened almond milk
1 Large Apple (I used a pink lady)
Directions:
Preheat the oven to 375 degrees. Begin by cooking 1/2 a cup of dry quinoa on the stove top. After the quinoa is done cooking, add the wet ingredients to a bowl (banana, apple sauce, almond milk, vanilla extract, and honey) to a bowl a mix well. Add all of the dry ingredients (chia seed, coconut flour, cinnamon, cooked quinoa, and oats) to another bowl and mix well. Combine the wet and dry ingredients and mix well. Then chop a large apple into very small chunks and add it to the bowl and mix well.
Place 12 muffins liners into a muffin pan, or lightly grease the pan with olive oil spray. Scoop the muffin mixture into the pan and fill all the way to the top. This recipe should make 12 full cups. Place the muffin pan into the oven and bake for 25-30 minutes.
These muffins will stay fresh in a sealed container for about a week.
Make sure to let me know in the comments if you make these!
What is your favorite breakfast to prepare ahead of time?
Do you always make sure to eat breakfast, or are you an eat on the run type of person?