Eggplant Meatless Balls & Red Lentil Pasta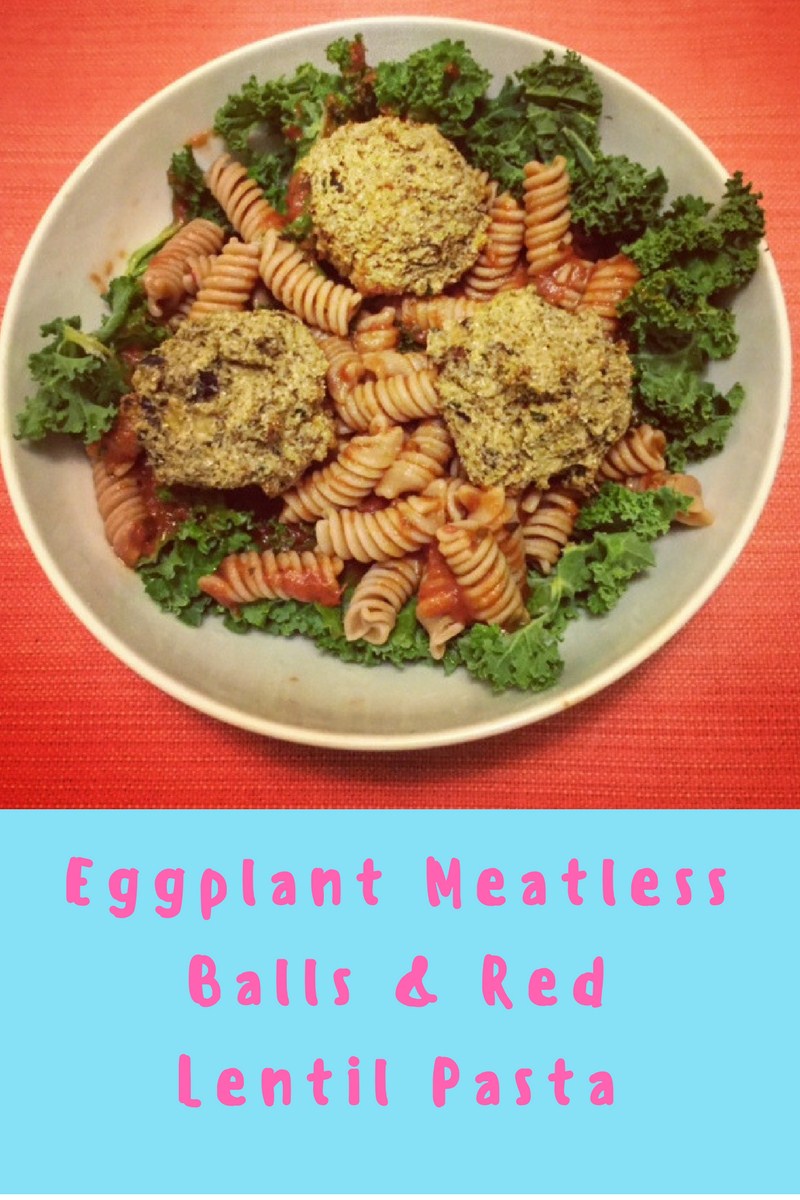 Today we are talking ballz. No, not that kind-get your head out of the gutter people! I am talking about delicious plant-based balls made from lots of wholesome veggies. These balls are made from a base of eggplant and chickpeas, with some corn meal, flax & seasonings thrown in the mix. They will rock your world. Seriously. I was so pleased with this recipe, as this was my first time ever making a copycat "meat ball". The texture and taste of these was delicious. They went perfectly with my favorite Red Lentil pasta, kale, & pasta sauce. They were also equally as delicious on top of a salad with lots of veggies and hummus. Yes, these #balls are versatile.
I wonder how many times I'll says #balls in this post. Probably enough to just mildly annoy you and myself. Sorry not sorry. #balls.
These will please even the meat eaters in your life. Best of all, these are gluten, oil, and dairy free, and made with whole, natural ingredients. I initially planned on making these meatless balls with gluten free breadcrumbs, but the store I was shopping at charged $6 per bag. Thanks, no thanks. This girl is on a budget. I knew that I had corn meal and ground flax at home that would make a great binder to sub in for the breadcrumbs.
I'll be honest, I was a little weary about using the corn meal-flax combination for these balls, but it worked out great! I made these while I should have been studying for an exam so you know that I really have my priorities straight. Also, healthy eating & working out > school any day. Just kidding- kinda.
I will let you all in on a little secret. I have never had a traditional "meatball" made with you know, actual animal meat. Most people don't believe me when I say that. I refused to eat ground beef as an infant/toddler and have never eaten it since. Seriously. Ask my mom. That also means I have never eaten a hamburger, tacos w/ ground beef, or chili made with ground beef. Basically, I always had beef with beef if ya know what I am saying. So, I didn't really have much to compare these balls to in terms of texture/taste. Obviously they will not taste like meat since these are made entirely of vegetables. Who needs meat though anyway ;)?
I know y'all are here for the recipe, so here it is!
Eggplant Meatless Balls
From
Kerri's Fit Kitchen
at
https://www.kerriskitchen.org/eggplant-meatless-balls-red-lentil-pasta/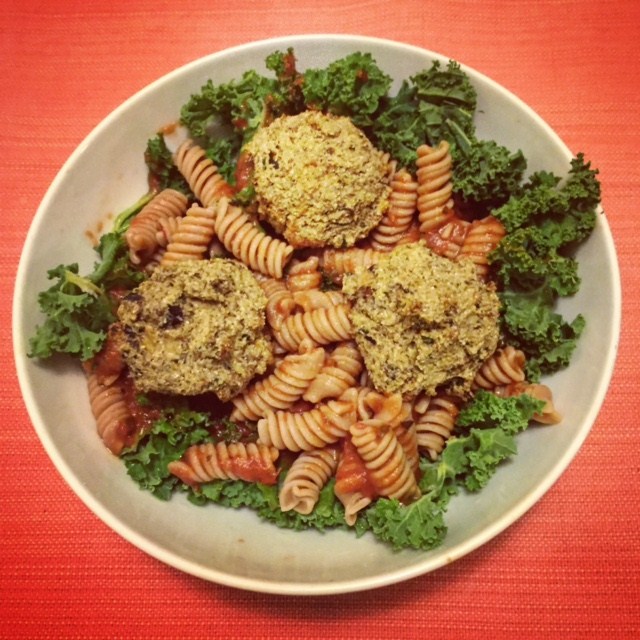 https://www.kerriskitchen.org/img/eggplant-balls.jpg
Prep:
Cook:
Yield:

18 balls

Total:
You'll Need…
1 eggplant, peeled (yield from 1-1/4 lb), Eggplant, raw
1 can Chickpeas (3.5 cups ea.) (drained)
1/2 cup Yellow Corn Meal
0.25 cup + 1 tbsp ground flax
0.50 cups, Onion
0.25 cup, Parsley, fresh
2 tbsp(s), Garlic, raw
1 tsp, Sea Salt
2 tsp(s), crushed red pepper
1 tsp black pepper
2 tsp oregano
Directions
Begin by preheating the oven to 450 degrees. Chop up the eggplant into small cubes and roast it for about 15 minutes. Then add all of the ingredients to a food processor. Be sure to drain the chickpeas, and chop up the fresh parsley and onion. You can taste the mixture after everything has mixed together to see if you would like to add any additional seasonings. Then scoop out the mixture into ball shapes and place them on a parchment paper lined baking sheet. Bake at 450 for about 20-25 minutes/ until firm and crispy on the outside.
Additional Notes
You can substitute the corn meal and flax for about 1 cup of breadcrumbs. I have not tested it with this method, so feel free to experiment, but just know that the results may be different.
I served my balls on top of a bed of green leafy kale, red lentil rotini (Ancient Grain is the brand I buy), and Whole Foods 365 Garlic jarred pasta sauce. Sometimes you just have to make life easy on yourself and use sauce from a jar!
Let me know if you try this recipe!
Have you ever made "meatless" balls?? What was the base??