The Best Ever Vegan Peanut Butter Cookies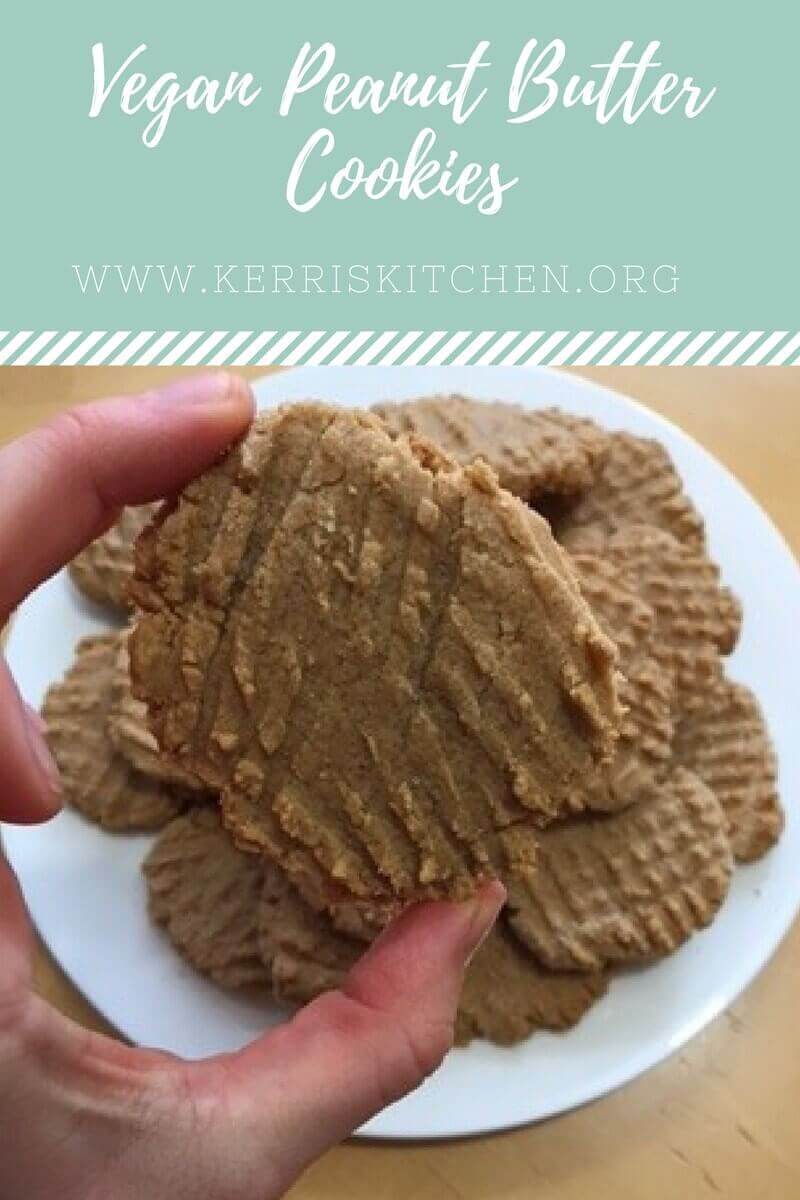 How did I create the best ever peanut butter cookies?? Well, my sisters requested some peanut butter cookies, but I had no GF flour at my family's house, so I knew I would have to make these without taste testing them along the way. And sometimes that just happens to work out in an amazing way. Now I can only go from what my sisters told me, but they said they would rather eat the peanut butter cookies that I made over any other traditional peanut butter cookie. That my friends, is when you know that you have hit a home run. These cookies look just like their "traditional" counterparts, and I bet nobody will guess that they aren't made with oil, butter, or eggs.
My sisters are pretty honest when it comes to playing food critic for me, so I know that these are good. If you don't believe me that you need these in your life, you gotta make them for yourself to find out. I bet you won't be able to stop at just one (unless you've got some serious will power ;)).
These cookies were so good, that my sisters requested that I make them again on Christmas day. Next time I have some all purpose GF flour, you can bet I'll be making some more so I can join in on the deliciousness. Making cookies for people when you can't eat them yourself may seem like cruel and unusual punishment to some people, but I love to make delicious vegan food for my family and friends! Also I'm the best sister ever (I think my sisters would agree with me on that on most days ;)). Plus, my parents don't always have gluten free flours/specialty baking ingredients at their house, so sometimes you just have to make due with what ya got! If you are on a gluten-free diet like me, all of the flour could easily be subbed for an all-purpose Gluten Free flour blend (I prefer Bob's Red Mill GF all-purpose).
(Check out that dough! – Best part is you don't have to worry about salmonella from eating the batter! Go ahead- lick the bowl ;)).
Another thing that I love about this recipe is the simplicity of the ingredients. You don't need anything crazy to make these, and you probably already have most of the ingredients in your pantry already!
Here's what you are going to need:
The Best Ever Vegan Peanut Butter Cookies
From
Kerri's Fit Kitchen
at
https://www.kerriskitchen.org/best-ever-vegan-peanut-butter-cookies/
Prep:
Cook:
Yield:

2 dozen

Total:
You'll Need…
2/3 cup all purpose flour
2/3 cup whole wheat pastry flour
1 tsp baking soda
1/2 tsp salt
1 1/3 cup peanut butter
1/4 + 1 tbsp almond milk
2 tsp vanilla extract
3/4 cup brown sugar
1/4 cup pure cane sugar (plus additional for rolling)
Directions
Start by preheating the oven to 350 degrees F. Next, mix together the flours, baking soda, and salt in a bowl. Then add the peanut butter, vanilla extract, sugars, and almond milk to a separate bowl and mix well. Add the dry ingredients into the wet and mix well. If you don't want to get a good arm workout in, then you can use a stand up mixer/electric mixer for this part. Mix the dough together until it forms into one big ball. You can use your hands at the end if you need to (that's what I did!). Then use a cookie scoop/spoon and scoop up 1 inch ball sized scoops and roll the balls in cane sugar, and place on a cookie sheet. Use a fork to make criss crosses in the cookies and to flatten them. Bake the cookies in the oven for 10-12 minutes and allow to cool on the pan for about 5 minutes before transferring to a wire rack/plate.
Additional Notes
I used natural Skippy peanut butter for this recipe as that was what my parents had at their house. I am not sure how the texture would change if you use an all natural peanut butter with just nuts, but you may need to adjust the liquid/almond milk amount. I think it would turn out pretty close though either way. You can sub all of the flour for GF all purpose flour, or all regular all purpose flour and I think the results will be the same.
These cookies were definitely a hit! Who doesn't love peanut-buttery goodness? While these may not exactly be "healthy", they are healthier than the traditional peanut butter cookie filled with butter, eggs, white sugar, and oil. These definitely are a lightened up version is terms of ingredients used, but they definitely don't taste it! Bring these to a family get together, make them for a friend's birthday, or as a surprise for the peanut butter lover in your life. Trust me, they will love them!
Try not to eat all of the cookie dough before putting them in the oven! The smell oh so peanut-buttery and sugary. Definitely a great treat to share with others and show the non-vegans in your life that vegan treats can be just as delicious more delicious than the typical animal based counterpart.
Mmmm, how irresistible do these look?? I don't always have the easiest time getting baking recipe right on the first try, but this time I definitely nailed it.
Please let me know if you try these! I would love to hear how they turned out and how your family/friends liked them!
Lets talk cookies in the comments: crunchy or chewy? Sweet or buttery? Best flavor? Homemade or store bought?