Spicy Baked Sweet Potato Wedges: Oil Free-Vegan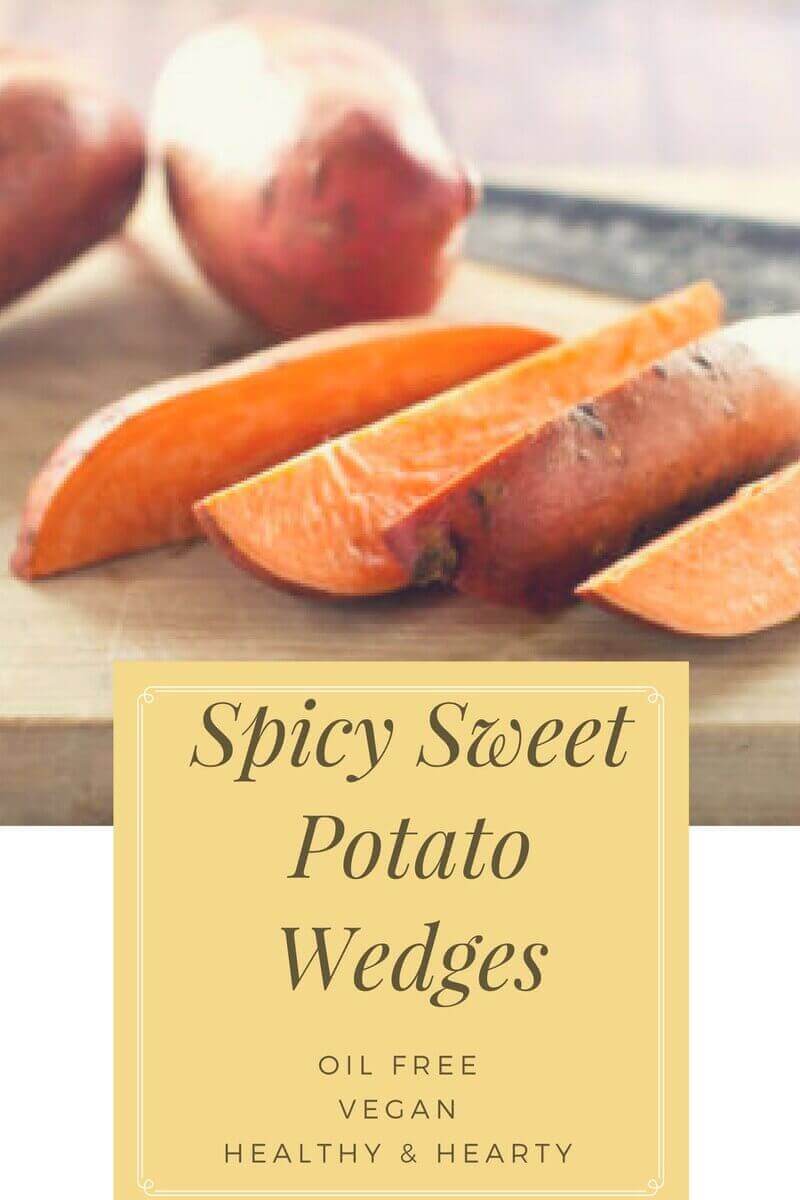 Today we are talkin' potatoes. Sweet potatoes. Only the best food on the planet. If I could only eat one food for the rest of my life it would definitely be potatoes. Plus, they provide almost all the daily nutrients you need in just one (giant) potato! Potatoes are a great swap for the meat in your diet as they provide lots of satiation and that "full feeling" people are looking for at the end of a meal. You all know how much I value eating a plant based diet, and I think incorporating as many meat-free meals into your diet as possible is always a step in the right direction!
Today I want to share with you one of my favorite EASY-PEASY (I know I say all my recipes are easy- but that is because they really are!) recipes for Spicy Baked Sweet Potato Wedges. I love making these delicious wedges any time of year, but especially during the cold winter months when I am craving something warm and comforting when I get home from school/the gym/library. What is even better about these is that they only take 30 minutes to make! What is even EVEN better is that you can pop them in the oven and forget about them for those 30 minutes and make better use of your time. I am all about maximizing any available time I have, especially as a busy student. If you are like me and like to take a no-fuss approach to meals, but still like to eat healthy, nutritious foods, then this recipe is for you!
This recipe will fill you up without dragging you down so you can power through the rest of your day/evening. This is mainly due to the super powers of sweet potatoes (seriously- they can work some magic), and the fact that there is no oil in this recipe. If you have been reading my blog for a while then you will know that I stopped cooking with oil a little over a year ago. I use it occasionally in dessert recipes, but 90% of the things I cook/eat are oil free. More to come on my reasoning behind that later.
Here's what you will need for this recipe:
Spicy Baked Sweet Potato Wedges
From
Kerri's Fit Kitchen
at
https://www.kerriskitchen.org/spicy-baked-sweet-potato-wedges-oil-free-vegan/
Prep:
Cook:
Yield:

1-2

Total:
Crispy, Spicy-Sweet Baked Sweet Potato Wedges. Flavorful, fat free, full of fiber and nutrients.
You'll Need…
Two Medium-Large sweet Potatoes
1 tsp chili powder
2 tsp garlic powder
1/2 tsp cumin
1/2 tsp paprika
Black pepper & Sea Salt to Taste
Directions
Preheat the oven to 425 degrees F. Begin by cutting the sweet potatoes into thick wedges. Place the wedges onto a parchment paper lined baking sheet. Mix together all of the spices in a small bowl/ dish. Sprinkle the spices all over the sweet potatoes (be generous here!). If you have seasoning left over you can save it and use it next time you make these- because trust me- there will be a next time! Bake in the oven for 30-40 minutes depending on how you perfer your wedges/ how thick you cut them. They should start to "puff up" an become crispy around the edges and bottom!
These sweet potatoes are crispy on the outside and soft on the inside without oil. I know. I didn't think it was possible to make foods crispy without oil either- but parchment paper is my secret weapon!
Do you eat sweet potatoes?
If you could only eat one food for the rest of your life what would it be?